Severe Tropical Storm Pakhar casus flight chaos at Hong Kong International Airport
The 2nd major storm to hit Hong Kong within a week leads to 206 flight cancellations and 471 delays
Forty-two landing attempts were aborted at Hong Kong International Airport between 7am and 7.30pm on Sunday as winds whipped up by Severe Tropical Storm Pakhar made conditions unsafe.
A review by the Post of data from Flightradar24, which tracks commercial flight movements, found some aircraft tried two or even three times to make a safe touchdown, as crosswinds and wind shear, which exerts a turning force on aircraft, wreaked havoc on operations.
Some pilots eventually opted to divert to other airports, with Xiamen, Kaoshiung, Haikou, Manila and Bangkok taking a large chunk of flights.
Diverted aircraft included Cathay Pacific flight 238 from London, which made no fewer than three failed attempts at landing before being diverted to Kaoshiung. Another flight, CX616 from Bangkok, made one failed attempt to touch down before flying back to the Thai capital.
A Hong Kong finance worker who asked not to be named said his flight to Singapore was supposed to depart at 11.15am on Sunday, but had been delayed twice.
On Twitter, affected fliers complained of delays, with one hitting out at Hong Kong's flagship airline Cathay for bumping him to a flight on Tuesday.
Hong Kong's Airport Authority said 44 flights had been diverted to other destinations.
A total of 206 flights were cancelled and 471 delayed due to the storm, with 50 planes left stuck on the tarmac at one point in the day as the city was pummelled by its second severe storm in a week.
The Hong Kong Observatory issued a T8 warning on Sunday morning as Pakhar lashed the city with heavy rain, but downgraded that signal to T3 at 1.40pm and T1 at 5.40pm.
Both of the airport's runways were set to operate overnight instead of the usual one, to cope with a backlog of flights.
At noon on Sunday, all airlines closed their check-in services until 2pm.
Earlier in the week, more than 450 flights were cancelled due to Typhoon Hato, which hit the city on Wednesday and caused major damage.
The typhoon left 10 people dead in nearby Macau and at least 244 people injured.
On Sunday, as Pakhar lashed the city, an authority spokesman advised travellers to check the status of their flight before coming to the airport.
"Operations are quite severely affected," he said.
The spokesman said flights were still coming and going from the airport on Sunday afternoon, but a flight attendant on a Delta plane waiting to take off said no planes were taking off or landing, according to a Post reporter on board an affected flight.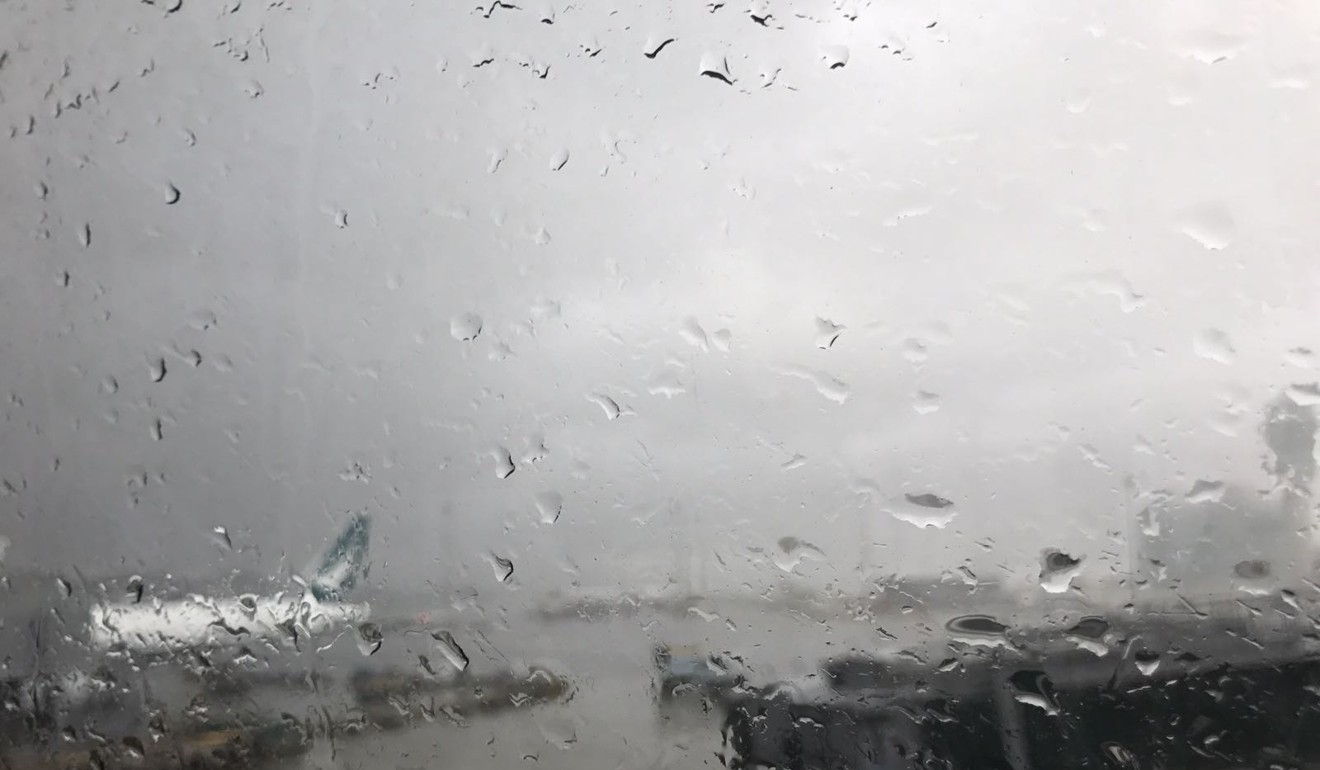 The pilot for flight DL38 to Seattle said that at one point 20 planes were stuck on the runway waiting for safer conditions, while another 30 were waiting to push off from the terminal.
He estimated that take-off could be a few hours away at the very least.
Now we are just stuck on the flight like sitting ducks
Flights heading southeast of Hong Kong were largely cancelled, while planes to Thailand, Japan and the United States boarded their passengers, the pilot said.
Mark Stranson, aboard DL38 after visiting Hong Kong on business, said he was pleased with the decision not to fly.
"I'd prefer that they delayed us before boarding because now we are just stuck on the flight like sitting ducks, but I'm glad they're not trying to fly in this weather."
But Cheri Cheung Wing-lam, a Georgetown University student, expressed concern she would miss her connecting flight.
"I cannot believe we have to sit here for so long, they shouldn't have boarded us if they were going to keep us waiting. I'm thankful they're not risking anything and that they provided refreshments, but I cannot imagine sitting here for hours."